One Motion Deployed at McCain
The One Motion brand continues to expand as McCain, the world's 2nd largest potato producer, has now deployed the innovative technology at their factory.
In this setup, McCain is using a decline conveyor to move products from the manufacturing location above, to the packaging area below.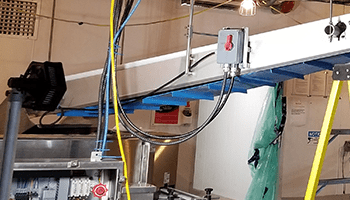 Visually, the most notable difference in using One Motion technology to power the conveyors, as opposed to a motor, is the space savings. The Volta Superdrive belt is driven with the One Motion powered pulley made with a custom machine shell to accommodate the unique features of the belt. As you can see from this image, these conveyors only need a few cables connected to them to operate. No more clunky motors and/or gearboxes getting in the way!
What may not be so visible is the fact that McCain is now able to convey their hash browns without fear of any oil leaks! By replacing clunky motors with smart technology, these conveyors are being powered simply by pushing magnets around.
Another opportunity provided by the smart technology is the ability to adjust conveyor speeds, quickly and easily. There are no gearboxes or speed reducers to adjust. Because One Motion products work with conventional frequency drives and act as synchronous motors, the speed of the conveyor can be adjusted in just a few clicks.
Whether you're looking to improve effeciency, cut costs, or need a custom packaging solution, we can help. Give us a call, shoot us an email, or chat with us on our website! We're here for you.